yield: 12 BROWNIES
prep time: 10 MINUTES
cook time: 30-35 MINUTES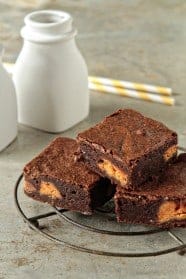 Ingredients:
4 ounces unsweetened chocolate; coarsely chopped
3/4 cup butter
1 1/4 cups sugar
3 eggs
1 teaspoon pure vanilla extract
1/4 teaspoon salt
1 cup all-purpose flour
3 (2.1 ounce) Butterfinger candy bars, chopped into bite size pieces
Directions:
1. Preheat oven to 350 degrees. Line an 8×8 inch baking pan with foil and spray with nonstick cooking spray.
2. Microwave chocolate and butter in a large bowl microwave-safe bowl at medium (50% power) for 3-4 minutes or until butter is melted.
3. Stir until chocolate is melted. Whisk in sugar, eggs, vanilla and salt. Gradually add in flour and stir until just combined.
4. Spread 1/2 the batter into prepared pan. Add an even layer of Butterfinger pieces and cover with remaining 1/2 of brownie batter. Bake for 30-35 minutes; do not over bake.
5. Remove to cooling rack. Allow to cool completely before cutting.

(Visited 4 times, 1 visits today)